Ready to Rip
With 35-inch tires and available beadlock-capable wheels, this performance truck tackles rough terrain with control and stability.
Piercing LED Lights
LED amber identification lamps peer from beneath the functional hood scoop, freezing onlookers in their tracks.
Power Behind the Badge
The menacing R-A-M on the grille is more than a badge. It delivers up to 32.9 liters of air per minute to the engine, delivering both massive power and impressive performance.
Tailor the Ram 1500 TRX to your style with available Mopar® accessories, like the bed-mounted spare tire carrier, RamBar and more.
Grab the Reigns
The Ram 1500 TRX boasts a performance leather-wrapped, flat-bottom steering wheel that includes aluminum paddle shifters.
12-Inch Touchscreen
The Uconnect® 5 NAV with 12-inch touchscreen gives every driver a personalized experience with custom profiles and customization features.
A Shift in Power
The powerful center console-mounted shifter with manual shift mode is your ticket to take off.
Performance Goes Premium
Off-roading doesn't have to be rough. Experience premium available features including intricate carbon fiber accents, leather-trimmed seating and an impressive Dual-Pane Panoramic Sunroof.
Bring in the Noise
Rival the growl of the Ram 1500 TRX engine with impressive audio inside. The Ram 1500 TRX boasts an available 19-speaker Harman Kardon® Premium Audio System made for blasting music.
SUPERCHARGED 6.2L HEMI® V8 ENGINE
Boasting absolutely insane horsepower and torque, this supercharged Ram 1500 has a growl all its own. Go ahead. Give it a listen.
0
0
HORSEPOWER
HORSEPOWER
702 HORSEPOWER
0
0
LB-FT Torque
LB-FT Torque
650 LB-FT Torque
0 sec
0 sec
0–60 MPH TIME
0–60 MPH TIME
4.5 sec 0–60 MPH TIME
The twin-screw supercharger offers more than just a mean whine. It gives you near instantaneous torque, for an off-the-line jolt of adrenaline that never gets old.
UNSHAKEABLE FOUNDATION
The 2024 Ram 1500 TRX is constructed of a 98% high-strength steel frame, designed for enhanced stability, durability and rigidity. Go ahead, see what it's made of.
FACTORY-INSTALLED BILSTEIN® SHOCKS
---
The Bilstein® Black Hawk® e2 Shock System is designed to evenly distribute all 702 horses to the ground and equally suppress opposing forces from uneven terrain.
A proprietary control algorithm is designed around the extreme performance needs of an off-road truck. It monitors vehicle sensors and continuously adapts to speed, throttle position, braking, torque, steering angle and more. This provides optimal body control on road and off.
Dual-valve technology allows the shock system to infinitely adjust both compression and rebound forces at each shock absorber. Depending on terrain and driver input, the system will tailor the signal being sent to each of the eight valves on the 2024 Ram 1500 TRX with extraordinary precision.
HIGH-PRESSURE STAINLESS STEEL BRAIDED HOSES
---
Each hose is shielded by a braided stainless steel outer layer and sealed using a metal-to-metal process. This allows them to withstand temperatures up to 275°F, accommodate pressures over 5,800 psi and helps protect against abrasion and corrosion.
Each shock is fueled by a pressurized nitrogen gas charge in an independent remote reservoir. This frees up room in the shock absorber for piston rod travel, allowing for extreme suspension articulation.
ZONECONTROL® JOUNCE CUTOFF
---
As the shock absorbers approach full compression, a secondary piston engages to prevent bottoming out. This hydraulic cushion technology is tuned specifically for the 2024 Ram 1500 TRX.
TACKLE NEW TERRAIN
This off-road truck is ready to explore with 11.8 inches of ground clearance, 13 inches of front suspension travel and 14 inches of rear suspension travel.
SELEC-SPEED® CONTROL
Maintain consistent vehicle speed while traversing variations in terrain slope. Selec-Speed® Control applies engine torque and brake pressure to keep driving consistent, so the driver can focus on steering.
12-INCH DRIVER INFORMATION DIGITAL CLUSTER DISPLAY
---
The 12-Inch Driver Information Digital Cluster Display offers full-screen navigation directly within your line of sight. Complete with full-color 3D graphics, color-customization and easy-to-see vehicle stats, this display helps reduce distractions and boost your confidence behind the wheel.
Eight Drive Modes
Take control of the 2024 Ram 1500 TRX with eight different performance-tuned drive modes. Each mode provides the optimum horsepower, gear ratio and torque split for navigating specific terrain and road conditions.
Head-Up Display
The available, reconfigurable Head-Up Display shows stats like mph, incoming calls and turn-by-turn Navigation in an easy-to-see digital view.
See Who Can't Catch Up
The available Digital Rearview Mirror features an LCD monitor that when switched on, offers a real-time video stream from a rear-facing camera.
12-INCH UCONNECT® TOUCHSCREEN
The high-definition, Uconnect® 5 NAV with 12-inch touchscreen lets you switch drive modes, view performance and off-road pages, customize the home screen and more. Access the available Ram Connect services for safety and security features, comfort and control, personalized benefits, and more.
Tailor the performance of the Ram 1500 TRX with a full suite of customizable performance and off-road pages.
Measure your peak horsepower, torque and boost pressure on any run with an integrated dynamometer. Then compare it to previous records.
Measure your peak horsepower, torque and boost pressure on any run with an integrated dynamometer. Then compare it to previous records.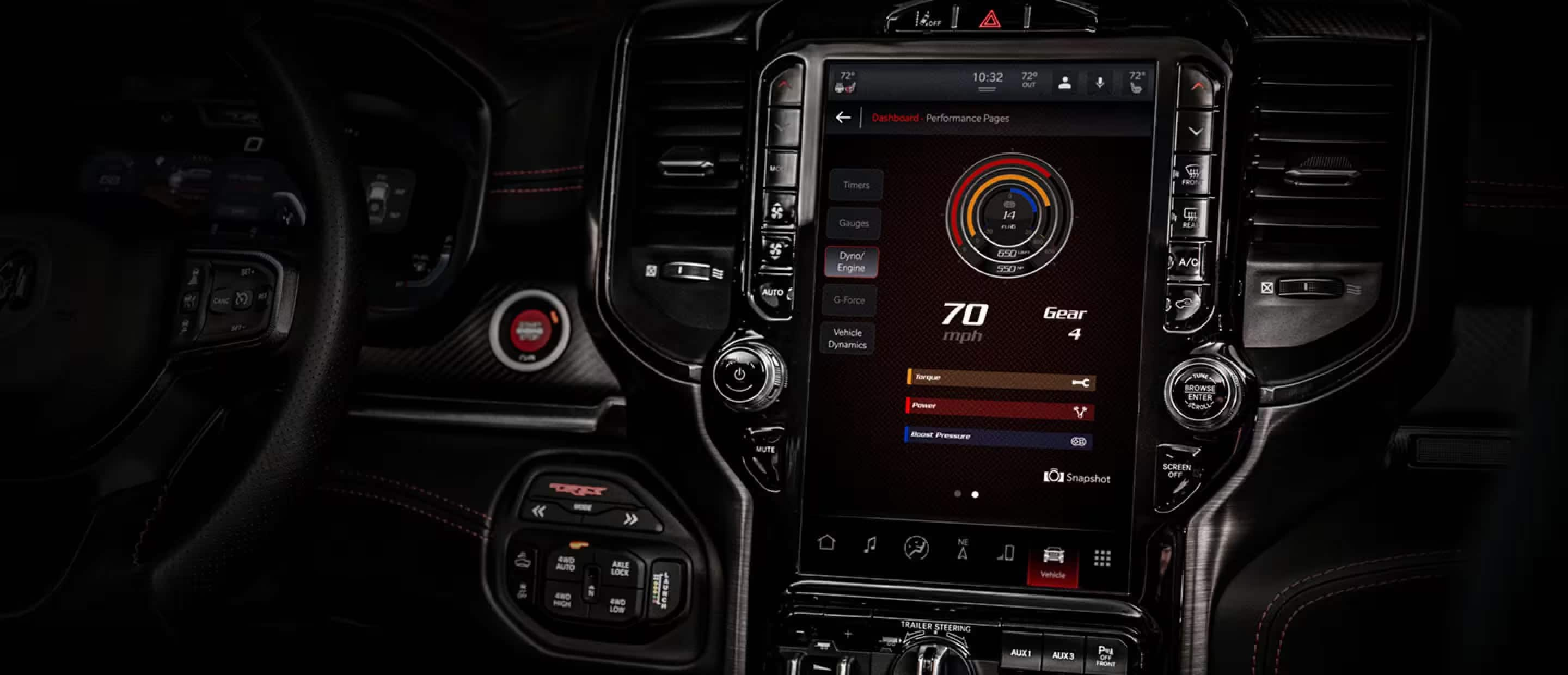 Discover new terrain with TomTom Navigation on the Uconnect® 5 NAV. Easily identify your next destination with stunning 3D graphics and confidently explore with sensor-assisted GPS accurately pinpointing your truck wherever you travel. 
Get ready for your next adventure with the available Ram App. Through available Ram Connect Services, you can send destinations to your available Navigation system with Send & Go, find your truck with Vehicle Finder and Remote Vehicle Start, lock and unlock your doors all from the app. 
Stay connected with wireless Apple CarPlay® support (shown) and Android Auto™ compatibility. Wirelessly connect up to two smartphones so you can stream music, receive calls, listen to messages and more.
Keep smartphones, tablets and more charged with easy-to-access auxiliary ports, an available wireless charging station, up to four ultra-fast Type-C USB charging ports and up to three 115-volt outlets.
Know Your Surroundings
The available 360° Surround View
Camera
offers a complete picture of vehicle surroundings, helping you to maneuver safely and securely. When driving forward or in reverse, your tires' predicted trajectory is displayed on the Uconnect
®
5 NAV with yellow gridlines.
Move with Confidence
Available Blind Spot
Monitoring
keeps you aware of blind spot zones with visual alerts. And available Rear Cross Path with Trailer
Detection
scans the area beside and behind the vehicle to help offer safety while maneuvering in tight spaces—even when a trailer is attached to the truck.
Got Your Back
The 2024 Ram 1500 TRX offers available Rear Cross Path
Detection
for assistance in tight spaces. This system scans the area beside and behind the vehicle to help ensure safety and security while maneuvering in reverse.
2024 RAM 1500 TRX GALLERY