DRIVE A RAM TRUCK, LEND A HELPING HAND.
Ram Truck owners are a special breed. Kind folks, with big hearts, looking to do some good in the world. From disaster relief to blood drives or even just cutting a neighbor's grass, Ram Nation is here to help.
"Everybody can be great, because everybody can serve."
–Dr. Martin Luther King Jr.
In the spirit of Dr. King, Ram Truck owners also believe in a life of serving others.

They serve because they're kind folks with big hearts. They serve because they feel a shared responsibility
and commitment to their family and community. They serve because they're men and women of their word.
They serve because they know the world could use a little more kindness.
TOGETHER WE DRIVE CHANGE
When Ram Nation gets together, something special happens. Neighbors help neighbors, strangers forge friendships and lives change forever. Join us. Be part of something great.
TEXAS AID
---
Four years of drought came to an abrupt and tragic end when storms flooded southeastern Texas, leaving devastation in their wake.
Ram Nation coordinated with rescue teams, dealerships and local Ram truck owners to deliver supplies and assist in home recovery in flood-stricken areas.

OAKLAND HILLS
---
This all-volunteer community garden offers children and families a space to learn about healthy eating and grow their own crops. Volunteers from the Ram Trucks corporate headquarters and local dealerships worked with Ram Nation to plant crops and deliver patio blocks, with the proceeds to be donated to local charities.

FORGOTTEN HARVEST FARMS
---
Located on 125 acres of land in Fenton, Michigan, Forgotten Harvest Farms is committed to relieving hunger in Metro Detroit. In 2013, the farm grew and harvested 880,000 pounds of produce like potatoes, corn, summer and winter squash and cabbage. With the help of volunteers at harvests and donated vehicles, the farm ensures that families in need can have fresh healthy food on their table.

TORNADO RECOVERY
---
When a 2-mile wide tornado touched down in Moore, Oklahoma, the town was devastated. Lives were lost and homes were destroyed.
Immediately, the community began to reach out. And soon, the first Ram Nation members – people with big hearts and strong backs, willing to make a difference for their neighbors – mobilized.

DONATE NOW. DONATE DIRECTLY.
Your donations are just as important as your volunteer efforts. Ram Nation is proud to partner with some of America's leading charitable organizations. All donations go directly to your organization of choice, so you're directly helping those who need it most.
FIRST RESPONSE TEAM OF AMERICA 
By working with meteorologists at The Weather Channel, the First Response Team anticipates when and where a disaster may hit. Then they position their rapid response team nearby, and when disaster strikes, they deploy immediately.
TEAM RUBICON 
Team Rubicon unites the skills and experiences of military veterans with first responders to rapidly deploy emergency response teams.
GARY SINISE FOUNDATION SERVING HONOR AND NEED™ 
Whether building Smart Homes for our severely wounded heroes, hosting festivals at military hospitals across America or supporting their loved ones in times of need, the Gary Sinise Foundation serves our nation's defenders.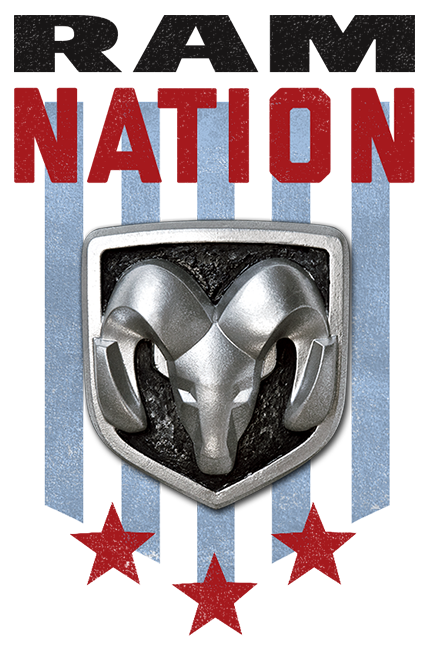 WELCOME TO THE
RAM NATION FAMILY
Let's give back together.
join ram nation